Custom Art Framing Service
Fine art framing services and specialty framing, in general, involve the framing of art that is personal, valuable, or very relevant in some way. It encompasses a number of art products and differs from general picture framing in a variety of ways. Typically, fine art may include but is not limited to the following:
Fine Art Originals
Traditionally, the largest category of fine art is made up of original paintings, sketches, one of a kind commissioned pieces, art on metal, paintings on cloth, art on wood, and pretty much any media that the artist may choose. Watercolors and pastels are also fine art products.

What makes these pieces fine art is the artist and the quality of his or her work, as well as the artist's originality and creativity. Clearly, any investment of such value demands the finest in custom art framing and should only be handled by professionals.
Digital Art
This classification includes any type of computer generated art. One digital art form with a growing audience is fractal art. Fractals, while having very complex and detailed mathematical definitions, are basically patterns that are self repeating. Many times these lines and patterns are computer generated.

However, fractals are not limited to digital art. A very popular fractal that everyone one has seen at one time or another is the reflected image of a mountain or forest on a still lake surface. The image is self repeating, thus a fractal image.
Mirrors
In today's decorating world, mirrors can certainly be used as fine art. Most common are beveled mirrors in significant frames. However, more artistic appeal may be found in the unique shape or design of a mirror, or in its actual surface or surfaces.

Fractal mirrors have risen in popularity as fine works of art. Also in high demand is art glass or etched glass, and the expert framing of it can produce a truly creative, one of a kind masterpiece.
Limited Edition Prints
By definition, this is a series of signed and numbered prints with a limited printing run. Certainly, the limiting number of the series helps to increase its status, but value of individual prints within the series can vary.

First, the reputation of the artist and the uniqueness of the art help to create a print's significance. As well, a low number in the series tends to increase its value. Falling within that same spectrum are the artist's proofs. Typically the first few (5-10) prints are proof pieces that the artist uses to approve the run. These are signed and numbered as proofs, and their value tends to be higher yet.

In the corporate environment, limited edition prints and original art can make a definitive statement about the client's success or love of art. The same can be said, of course, about residential art. It's all about priorities.
Shadowboxes
The concept of a shadowbox is that of placing memorabilia of almost any type in a framed box of an appropriate size and appealing design. The framing of a shadowbox is almost always very personal. Its intrinsic value may or may not be of relevance. In fact, more times than not, memorabilia items will have a much higher personal level of importance than monetary or investment value.

One of the most popular items placed in shadowbox frames is sports memorabilia. However, when we build shadowboxes for corporate art projects, they may contain items that reflect what a company does. That can include industrial items, rocks, old books, antique medical instruments, and the list goes on.
Conservation Framing
The framing of old artwork and documents is a most relevant form of fine art framing. To frame and preserve such art and documents properly requires the skill and knowledge of a certified picture framer. The framer will use only the correct materials and processes necessary to protect the value, beauty, and significance of these unique art pieces.
Portrait Framing
Studio portraits of family members, senior pictures, or collages of personal photographs are, by nature, fine art. As noted on the Custom Picture Framing Services page of our website, these fall into the fine art framing category due to their high sentimental value. For both appearance and protection, art of this level demands the finest in custom art framing.
For related information, please see: Custom Picture Framing Service
Call today for a no-cost, no-obligation quote.
832-606-3303
scott@turnkeyartsolutions.com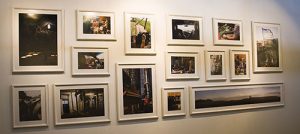 To assist you in selecting art for corporate projects, we also offer a Free On-Site Art Consultation service.
Houston Art and Frame is available by appointment at our Cypress location. More importantly, we will come to your location (office or home) within the Greater Houston and surrounding areas.

For individuals & companies nationwide, we are available for virtual art consulting appointments through Zoom or Google Meet.